Automated car developers and regulators need to be proactive to deal with the issues facing the industry, from public education to safety to employment dislocations to city planning, said speakers at the second full day of the Automated Vehicles Symposium in San Francisco.
 
The arrival of automated vehicles will inevitably lead to changes in employment, said Erica L. Groshen, a visiting senior scholar at Cornell University's School of Industrial Labor Relations.
 
"Innovation is not new," she said. "Let's learn from the past."
 
Her team has studied past technology-driven dislocations dating back to the industrial revolution and found that even when jobs are lost, eventually full employment returns.
 
"When jobs are lost, eventually we get back to full employment. However, there can be very high costs to the workers involved," and "the losses precede the benefits, if the workers ever get them at all."
 
Automated vehicles should lead to cheaper transportation, which will mean that consumers have more money to spend on other things, which will benefit the economy. 
 
However, Groshen noted, "we're going to lose a lot of drivers," many of whom will need new skills. In all, she expects 1.3 million to 2.3 million displaced workers, with losses of $80,000 to $120,000 per worker, for a total impact of $200-300 billion.
 
That is about half the size of the displacement that occurred when manufacturing jobs mostly went to China, so "the impact is consequential, and it's manageable."
 
The industry and government could let AVs develop without regard to this dislocation, which could lead to unrest. It could also slow the adoption of AVS to let the job market catch up. Or, it could use her preferred option, to direct some of the $800 billion in annual economic impact from automated vehicles to help offset this.
 
That could include strengthening workforce development programs, wage insurance, worker retraining, even a universal basic income, she said. 
 
"None of them is a silver bullet, but they all have evidence of success," she said.
 
Mark Rosekind, the chief safety innovation officer — a job he said is unique in the industry — for the reclusive robo-taxi startup Zoox, said getting traffic deaths down to zero should be the industry goal, but it will take a while to get there.
 
"It is fantasy" to say that no lives will be lost once the technology takes hold, but that can be a goal as long as the industry is proactive.
 
"For 50 years in the auto industry, it's. been reactive," he said, but now, "let's prevent that crash from happening in the first place. It's completely different."
 
The automotive industry has led safety initiatives, including a recent agreement by 20 automakers, representing 99 percent of cars manufactured, to make automatic emergency braking standard on new vehicles. That means that capability will be standard about three to four years before government regulation would have made it happen, he said.
 
"The industry has taken on some really hard things and figured out how to move them forward," said Rosekind, who previously headed the National Highway Traffic Safety Administration.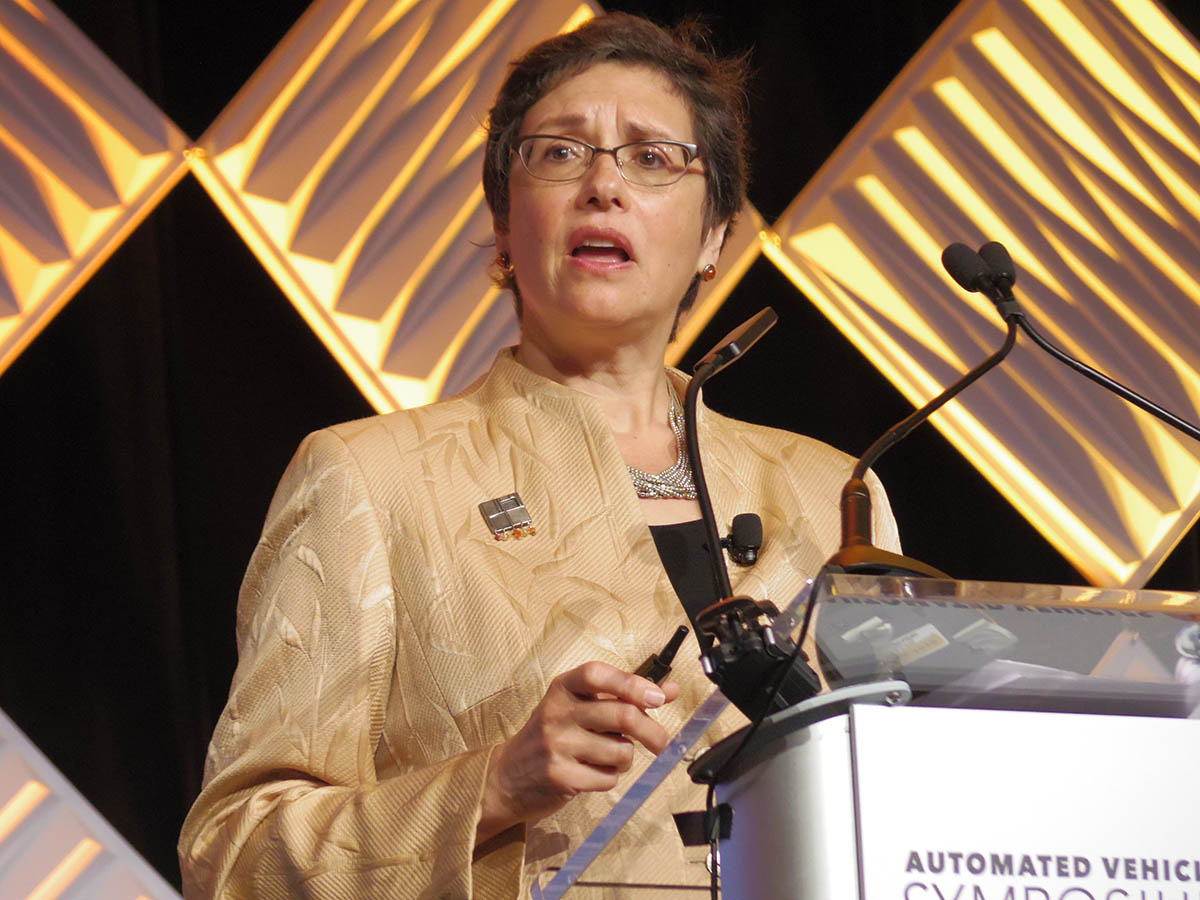 Erica Groshen, visiting senior scholar at at Cornell University's School of Industrial Labor Relations.
 
Lyft maintenance
 
The ride-sharing company Lyft is looking ahead by setting up service centers for its drivers, where they can have their cars maintained and cleaned. 
 
Nadeem Sheikh, the vice president of autonomous vehicle programs at Lyft, said the company has made an initial investment of $100 million to begin setting up the centers in urban centers, which help lower costs because the cars are kept in good shape at locations that are convenient to access.
 
Those centers can then be used to maintain autonomous vehicles, Sheikh said, which also keeps them on the road.
 
"The driver service center allows us to … operate autonomous vehicles much more cost effectively," he said.
 
Boston has been working with driverless cars since 2016, and recently expanded the scope of its work with driverless car maker Nutonomy to include the whole city (albeit with only five vehicles). John Moavenzadeh, Head of Mobility Industries and System Initiative at the World Economic Forum, has been working with Boston on its AV studies, along with Berlin and Shanghai.
 
He said consumer surveys in those cities have shown that mass transit can be threatened in city centers, although it might grow stronger in the suburbs. In Boston, congestion downtown would increase by 5.5 percent due to the loss of mass transport because of the rise of driverless cars. 
 
Cities can work to offset such changes by setting up dedicated lanes for AVs, occupancy-based pricing to encourage carpooling and other activities, he said.
 
"Cities will need to be increasingly thoughtful, increasingly proactive about how they plan for the transition that is most certainly coming," he said.
Below: Mark Rosekind, chief safety innovation officer for the startup Zoox. Photo: AUVSI