Message from the President
With the start of the new year, comes a new President and some new goals for the Chapter. As part of the initiative for 2017, I'd like to see more recruiting of remote pilots, more community outreach, and more collaboration within the community. To this end, we will be rolling out a series of efforts to strengthen the unmanned systems (UxS) business community within Nevada. Stay tuned to this website (and update your profile with a current email address) for details.
Thank you again,
Jonathan Daniels
Chapter President
Business Solutions
Black & Veatch and Aeryon Labs have collaborated to launch an end-to-end asset management inspection system that uses UAS technology for global energy clients.
Using Aeryon's commercial UAS hardware, software and services, crucial infrastructure condition data can be captured, and that data is integrated by Black & Veatch into the existing enterprise asset management (EAM) systems of a utility.
This streamlined system by Black & Veatch and Aeryon Labs expedites inspection times, lowers inspection costs, and speeds up the integration of data into EAM systems.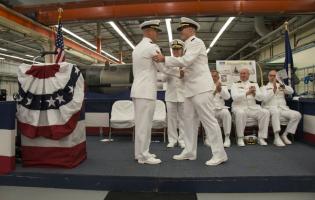 The U.S. Navy officially set up its first unmanned undersea squadron, Unmanned Undersea Vehicle Squadron 1, or UUVRON, at an event on Sept. 26 in Washington state.
The Nevada Governor's Office of Economic Development (GOED) and the Nevada Institute for Autonomous Systems (NIAS) have teamed up with Microsoft's UAS research team to test Artificial Intelligence (AI) in Microsoft's sailplane.
The sailplane being tested, which is 16.5 feet and weighs 12.5 pounds, relies on a battery to "run onboard computational equipment and controls," including the rudder, and radios to communicate with the ground.
The UAS also has a motor, which allows a pilot to take over manual operation if and when necessary.
​During this set of tests though, the UAS demonstrated its ability to operate on its own, as it found and used thermals to travel without the help of the motor or a person.
In early May, Aurora's Autonomous Aerial Cargo Utility System (AACUS) successfully delivered cargo to U.S. Marines in the Integrated Training Exercise at the Marine Corps Air Ground Combat Center Twentynine Palms in California.
According to Aurora Flight Sciences, AACUS completed its first closed loop mission from takeoff to landing for its intended purpose of actual cargo resupply to Marines, as it successfully completed an autonomous cargo sustainment flight delivering more than 500 pounds of water, gasoline, MREs, and replacement communications gear including a packed cooler to represent urgently required cargo such as blood.
Aurora says that this was the first ever "autonomous point-to-point cargo resupply mission" providing critical logistics support to Marines in need.
After being asked to help a UAS manufacturer propose their system to the Department of Defense, Tony "Pooch" Pucciarella, founder of AlarisPro, says he was surprised to learn that the company was unfamiliar with standard aviation reliability and safety metrics such as mean time between replacement and failure.
This led Pucciarella to start designing the architecture for AlarisPro, UAS fleet management software that helps keep track of vital information regarding drones.
Among many things, the software provides detailed reports, flight and maintenance logs, and a dashboard that includes pilot status, UAS status and alerts, with colors — green (good), yellow (caution) and red (item is past due) — to indicate the current standing.
The U.S. Army has selected Team Polaris—made up of Polaris Industries Inc., Applied Research Associates Inc. (ARA) and Neya Systems LLC—and its advanced MRZR X multi-mode vehicle platform to be one of the robotic systems used by infantry brigade combat teams for the next year of trials, as part of the Squad Multipurpose Equipment Transport (SMET) program.
Warfighters using the MRZR X are provided with a "modular, multi-mission support platform" that has several modes of operation, from traditional operator driving to multiple levels of autonomy, including the capability for remote control, teleoperation, follow-me, leader-follower and full autonomy.
Different modes of operation allow the MRZR X to "enhance and evolve mobility" in various roles such as, but not limited to, service as a robotic equipment mule, autonomous resupply vehicle, and rescue mission enabler.
AUVSI Member Sign In
Why join AUVSI
AUVSI is the world's largest organization devoted exclusively to advancing the unmanned systems and robotics industries. We provide our members with a unified voice in advocacy for policies and regulations that encourage growth and innovation; we provide education to the public and media on the safe and beneficial uses of unmanned systems; and we enable market growth by providing our members with custom resources to realize their full potential within the industry.
The Automated Vehicles Symposium convenes industry, government, and academia...
Show Lawmakers that the Unmanned Systems Industry Matters ...