Message from the President
With the start of the new year, comes a new President and some new goals for the Chapter. As part of the initiative for 2017, I'd like to see more recruiting of remote pilots, more community outreach, and more collaboration within the community. To this end, we will be rolling out a series of efforts to strengthen the unmanned systems (UxS) business community within Nevada. Stay tuned to this website (and update your profile with a current email address) for details.
Thank you again,
Jonathan Daniels
Chapter President
Business Solutions
Black & Veatch and Aeryon Labs have collaborated to launch an end-to-end asset management inspection system that uses UAS technology for global energy clients.
Using Aeryon's commercial UAS hardware, software and services, crucial infrastructure condition data can be captured, and that data is integrated by Black & Veatch into the existing enterprise asset management (EAM) systems of a utility.
This streamlined system by Black & Veatch and Aeryon Labs expedites inspection times, lowers inspection costs, and speeds up the integration of data into EAM systems.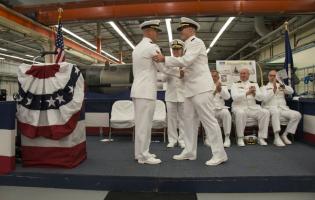 The U.S. Navy officially set up its first unmanned undersea squadron, Unmanned Undersea Vehicle Squadron 1, or UUVRON, at an event on Sept. 26 in Washington state.
The Nevada Governor's Office of Economic Development (GOED) and the Nevada Institute for Autonomous Systems (NIAS) have teamed up with Microsoft's UAS research team to test Artificial Intelligence (AI) in Microsoft's sailplane.
The sailplane being tested, which is 16.5 feet and weighs 12.5 pounds, relies on a battery to "run onboard computational equipment and controls," including the rudder, and radios to communicate with the ground.
The UAS also has a motor, which allows a pilot to take over manual operation if and when necessary.
​During this set of tests though, the UAS demonstrated its ability to operate on its own, as it found and used thermals to travel without the help of the motor or a person.
This Week in the Unmanned Systems and Robotics World.
V-cube Robotics, Inc., which is headquartered in Shibuya, Tokyo, has announced that it will begin offering a solar power plant inspection package service that uses UAS called 'SOLAR CHECK.'
The UAS, which are equipped with infrared thermography cameras, autonomously fly around a facility, imaging the solar panels. These images are then analyzed using artificial intelligence, which, according to VStar, dramatically improves the efficiency of inspection, making it possible to discover discrepancies and report on the results of an inspection in a short amount of time.
VStar Systems has announced the new MA-C MiniPod, which is a pod version of the company's MA-C SIGINT Sensor.
VStar designed its MA-C Sensor System to provide signal intelligence such as "signal copy, signal identification and direction finding" to a wide variety of platforms. The MA-C system is designed to function as a "modular, scalable, flexible tactical COMINT sensor," specifically intended to address design challenges posed by Class 2 or 3 UAVs, while also optimizing operator efficiency.
Designed with flexibility in mind, the VStar Systems MA-C MiniPOD provides a "rapidly deployable communication intelligence solution." The MA-C MiniPOD directly supports today's warfighter needs and allows commanders to make better informed decisions, thanks to its ability to enable interception, direction-finding, and processing of tactical communication signals.
AUVSI Member Sign In
Why join AUVSI
AUVSI is the world's largest organization devoted exclusively to advancing the unmanned systems and robotics industries. We provide our members with a unified voice in advocacy for policies and regulations that encourage growth and innovation; we provide education to the public and media on the safe and beneficial uses of unmanned systems; and we enable market growth by providing our members with custom resources to realize their full potential within the industry.
This premier event unites the largest global community of drone, intelligent...
The Automated Vehicles Symposium convenes industry, government, and academia...